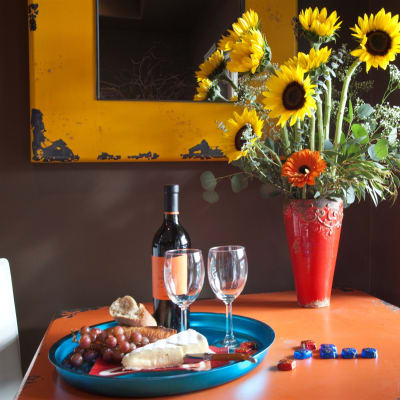 Features & Services
"Spectacular Panoramic Views!"
Newly remodeled, designed for a relaxing and rejuvenating stay. The Three Tree Point bed and breakfast suite and cottage provides panoramic views of Mt. Rainier, the Puget Sound and the Olympic Mountains range. It is a 'home away from home'.
Enjoy your private accommodations with:
Full kitchen stocked with a healthy breakfast
Fireplace in your living room
Outside Hot tub with a view of the water
Separated bedroom with a luxurious California king bed
A pillow menu with a choice of four different types of pillows
Down pillows, blankets and pillow top beds (allergenic free)
100% Egyptian cotton,1500-thread-count linens that is hand ironed
43-inch LG flat panel television with cable movie channel
Private dining area with a view
Two room bathroom
bath amenities (shampoo, conditioner, lotion, Shea butter soap)
Lighted make-up mirror
Hair dryer
Terry-cloth bathrobes and slippers
Original Local Art
Private patio with dining set
Outside sitting area with a view
Wireless high-speed Internet access
Off street parking
Daily newspaper
complementary library
Coffee and coffee maker
Air conditioner
Iron and ironing board
Dog-friendly rooms
Take a walk down the Indian trail to the beach and/or enjoy the local neighborhood restaurants. We are located approximately 15 minutes from downtown Seattle, Washington and 10 minutes from Sea-Tac Airport. Perfect for the discerning business and pleasure traveler.


Inn Services
Price Range: $145 - $295
Breakfast: In-Room
Rooms: 2
Children: welcome
Rooms with private bathroom: 2
Pets: welcome
Jetted Tub/Hot Tub: Yes
Rooms with Fireplaces: Yes
Parking: Off street Parking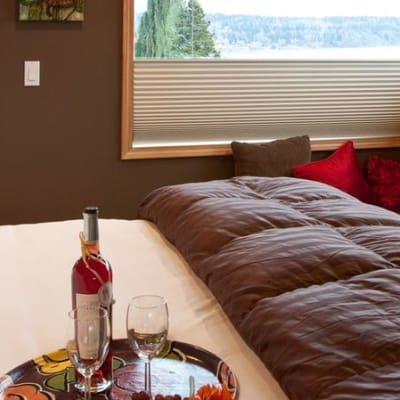 Green Program/Stewardship
Recycle bins are provided for guest
Compost bins are provided for guest
Entire property is non-smoking
Buy certified organic whenever possible
Buy products in bulk whenever possible to save packaging waste
Property compost materials
Property maintains a garden on site for kitchen use i.e. herbs, vegetables, etc.
Property donates used items for reuse i.e.: linens, towels, furniture, etc.
Cotton bedding and towels used
Low VOC products used i.e.; adhesives, paint
Motion Sensors are used on Property
Energy efficient lighting (CFL or LED) is installed
Property has a sheet/towel reuse program in place
Inn uses non-toxic, biodegradable, petroleum free cleaning product whenever possible
Inn uses a steam cleaner
Inn offers information about public transportation in the area for guest
Use cloth napkins when possible
Dimmers installed on appropriate light fixtures
Inn has a water reuse program
Inns monitor delivery of newspaper, magazines etc to reduce waste
SNUB-say no to Unnecessary Bags Innkeeper use reusable sacks for shopping or errands whenever possible and offer these bags for guest use
Innkeeper has worm bin for composting
Innkeeper has free range chickens for guest eggs
Utilize local vendors whenever possible
Property uses refillable water filter as opposed to single use (replace individual bottle water with pitchers and glasses)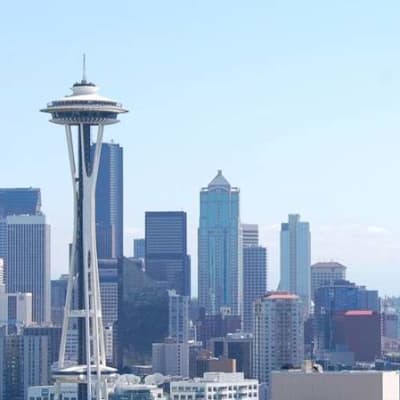 Local Seattle Events
As residents of the Seattle area for over 25 years, we find nothing more satisfying than sharing our knowledge and love of the Northwest with our guests. We recommend a minimum of three days to get a real flavor for the area.
Visit the links below for a list of some of our favorite attractions & dining spots to consider when planning your upcoming trip.
Enjoying your vacation starts right here at the bed and breakfast. Take a peaceful beach walk or a 4-mile jog around the quaint neighborhood. You might hear seals barking, view an eagle in flight, or if you're lucky, see a visiting pod of Orca whales. Relax on your patio, enjoy a massage, take a dip in the hot tub, watch a movie, or curl up with a book from our library.
For the visitor who'd like to experience more of the area, Seattle is a vibrant city with a myriad of sites to see and things to do. Pikes Place Market, known for its local color, unique foods, art, crafts, the infamous "flying" fish stand, and so much more, is not to be missed. You might also be interested in the city's underground tour, the numerous microbreweries and we can't forget the Space Needle.
Our Space Needle Trip Tip: Make reservations for lunch in the rotating restaurant, enjoy a good meal, bypass the line, and your space needle ticket fee will be waived.
Seattle's outlying areas, a mix of rugged mountain terrain and peaceful ocean inlets are visually stunning. Whether you're seeking leisure or more athletic pursuits, there's something for everyone. Ferry over to the islands to the Olympic National Forest, to Victoria B.C., or take a day trip up to Mount Rainer to hike, play in the snow, and enjoy meadows of wild flowers.
Take a ride up to Woodenville for an scenic ride up to the wineries. Or take a float plane over to the San Juan Islands for kayaking or whale watching.
We're also biking and skiing enthusiasts. Ask us about our favorite spots and we'll share any trip tips we might have for your optimal experience.
We have gathered the links listed below to help you plan your upcoming trip. For more recommendations, please see our Location Page.
MARCH
Moisture Festival
APRIL
Skagit Valley Tulip Festival
Best of the Northwest
Festal - Seattle Cherry Blossom Festival
Moisture Festival
Taste Washington
MAY
Festal - Asian Pacific Islander Heritage Month Celebration
Northwest Folklife Festival
Opening Day of Boating Season
Seattle International Children's Festival
Seattle International Film Festival
Seattle Maritime Festival
University District Street Fair
JUNE
Fremont Fair
Festal - Pagdiriwang Philippine Festival
Northwest New Works Festival
Olympic Music Festival
Seattle International Film Festival
Pike Place Market Festival
Pride Festival

JULY
4th of Jul-Ivars Festival
Ballard Seafoodfest
Bellevue Arts and Crafts Fair
Bite of Seattle
Capitol Hill Block Party
Chinatown-International District Summer Festival
DayBreak Star Indian Pow Wow
Festal - Bastille Day Celebration
Festal - Naturalization Ceremony
Festival of American Fiddle Tunes - Centrum
Jazz Port Townsend - Centrum
Lake Union Wooden Boat Festival
Olympic Music Festival
One Reel 4th of July Festival
SEAFAIR Community Events
SEAFAIR Marathon
SEAFAIR Milk Carton Derby
SEAFAIR Torchlight Parade
SEAFAIR Torchlight Run
SEAFAIR Triathalon
Seattle Chamber Music Festival
AUGUST
Best of the Northwest
Festal - Arab Festival
Festal - BrasilFest
Festal - Cambodian Cultural Heritage Celebration
Festal - Tibet Fest
Olympic Music Festival
SEAFAIR Blue Angels Airshow
SEAFAIR Community Events
SEAFAIR Hydroplane Races
SEAFAIR Navy Fleet Arrival
Seattle Chamber Music Festival
Seattle Festival of Alternative Dance & Improvisation
SEPTEMBER
Bumbershoot
Festal - Italian Festival
Festal - Korean Cultural Celebration
Festal - Seattle Fiestas Patrias
Olympic Music Festival
Puyallup (Western Washington) Fair

Attractions:
Seattle Space Needle
Pike Place Market
Jazz Alley
Ballard Locks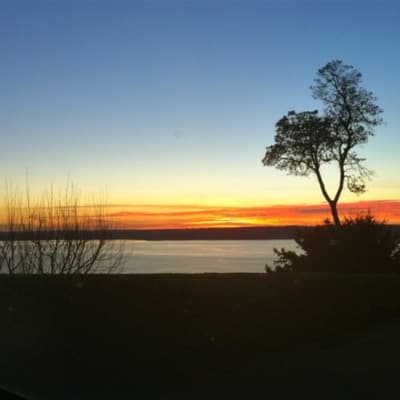 Suggested Itineraries
Check back soon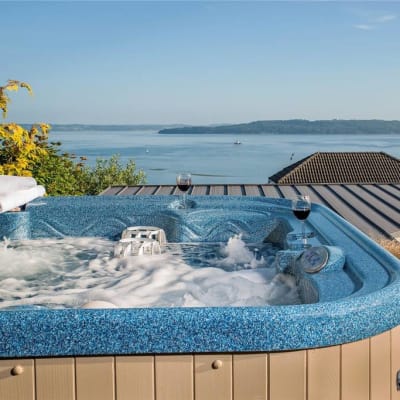 Hot Tub
Soak the stress away in the hot tub at Three Tree Point Bed and Breakfast.
The hot tub is available for our resident guest only. It is a private hot tub, we ask that if someone is in the hot tub please wait until they have left to enter.
This provides for a nice experience for everyone.
We also ask to take a shower before entering the hot tub.