About Three Tree Point
Welcome to Three Tree Point Bed & Breakfast, a true Northwest retreat where you'll be greeted by spectacular panoramic views of Mount Rainier and the Olympic Mountains. Surrounded by this breathtaking scenery, nestle into one of our two private, independent guest accommodations, The Suite or The Cottage. A Vacation Rental that sits on the bluff overlooking the Puget Sound Water.
Bright, spacious and serene, the suite invites you to open the French doors, gaze upon the Puget Sound waters and rest within the large leather couch in front of the fireplace. Pour a cup of hot tea or a glass of wine, put your feet up and relax. You'll want to stay awhile.
The cottage provides all the comforts of home, but with stunning salt water and mountain views. The charming bungalow setting invites you to cozy up next to the fireplace, rekindle your relationship, and warm your soul.
After a rejuvenating night's sleep, wake at your leisure, and rise refreshed for a Breakfast that's ready when you are. Choose from several delicious options to easily prepare in the comfort of your own kitchen.
When the day beckons you out, enjoy ship watching from your private patio or a dip in the hot tub. Or take a day-trip into Seattle. Explore Pike Place Market, ride up to the top of the space needle or find a quaint bistro.
The surrounding area has unforgettable adventures for every activity level. Enjoy a ferry ride or hike Mount Rainier. Stroll the Butchart Gardens or kayak around the San Juans. Whatever your pace, there's an adventure waiting for you!

Approximately 15 minutes from downtown Seattle and 10 minutes from SeaTac Airport, on the shoreline of Three Tree Point, you'll find an idyllic home-away-from-home in the private setting of The Suite or The Cottage.
Both accommodations include a patio, living room, dining area, and a full kitchen stocked with your choice of healthy, delicious breakfasts.
The cozy setting invites you to nestle in, read the paper, watch a movie, or curl up with a good book. When the day beckons you out, enjoy breakfast on your patio or take a peaceful stroll along the beach. For the ultimate in relaxation, enjoy a massage, and then take a restful soak in the hot tub.
Whether it's a business stay or a romantic retreat for two, visit our reservations calendar and find the perfect time for your unforgettable Northwest getaway...
We can't wait to see you!
Video Tour
Kitchen with a Healthy Breakfast

Both units have a complete kitchen. We stock your kitchen with a healthy local and organic(when available) breakfast daily. You can enjoy eating it inside next to the fireplace near the window or outside on the patio, both with a view of the water and surrounding mountains. Pick up dinner at the Pike Place Market and bring it home to cook on the Barbeque.


Hot Tub
The hot tub is located outside over looking the Puget Sound. It is shared by the suite and cottage, but used seperately. Guest respect that if someone is using it to wait and come in afterwards.


Family Friendly
Our cottage and suite can accommodate a roll away in the living room for an extra adult or 2 small children. A crib and highchair are available for a little one too.
Dog Friendly
We are dog friendly, we ask for you to pick up after them, do not allow them on the bed and bring their blanket to cover the chairs and sofa if they are lap dogs. We do have an extra bowl and towels if you need them. Bring a leash because we do not have a fenced yard and ask for you to always be in control of them. This is a dog friendly neighborhood and you will enjoy taking them to the beach. $20 per dog per day
About the Whisler Family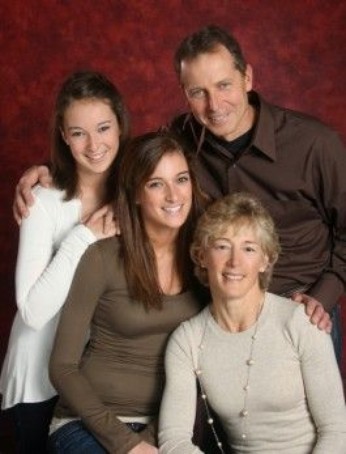 Hello, I'm Penny and this is my husband Doug and our two girls Braly and Brita. We are the innkeepers of the Three Tree Point Bed and Breakfast. We hope you will visit our B&B while you are in the Northwest. Three Tree Point is the realization of our dreams. We enjoy providing a true "home away from home" experience for our guests. Doug works hard as a CEO for an Ultrasound Company. I was a mechanical engineer at Boeing for 8 years. We had our first little girl, Braly, in 1993 and our dream was to be able to stay home with her. The bed and breakfast has made this possible. Brita, our second daughter was born in 1996. Our family interests includes water and snow skiing, hiking, biking, and yoga.
Callie You may be welcomed by Callie, our white German Shepard who has a preoccupation with tennis balls. There is also Miss Lillie, our friendly feline companion chosen by our daughter.

My love for what I do insures a personalized experience at Three Tree Point Bed and Breakfast. We continue to strive to improve our services and with twenty years experience and insights from our guests, we want to guarantee your visit with us is memorable.